Contour and Contour pedal boats. If you like to pedal, use our Contour and Contour pedal boats.




Pedal with our pedal boats. We make pedal boats, paddle boats, paddleboats and pedalo.

Pedal, paddle, paddleboat, boat, boats, paddleboats, pedalo, Contour, manufacturer, manufacturers, dealer, dealers, builder.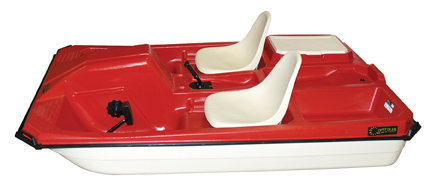 "Commodore shown in Red color"

Features
Contour Pedal Boats
Commodore Features
Contour Features
Contour pedal boats are manufactured of high quality, vacuum formed thermoplastics, either ABS or Polyethylene. Both materials are formulated to have long term resistance to Ultra Violet Rays (UV) as well as the adverse effects of weather and some water conditions.

2 Seater
Fully adjustable seats
High quality non-slip sand finish
Storage box/cooler
Storage behind seats
Available in Yellow, Blue, Aqua, Green, Red

sealed hull and deck
6 paddle blades - more torque per revolution
sealed ball bearings - for quiet smooth operation
joy-stick steering
positive buoyancy

Contour is proud to have supplied personal watercraft to its' many customers around the world for the past 30 years.
Backed by our 3 year warranty - on hull, deck and parts, we are certain your Contour Pedal Boat will give you years of trouble free use.
Contour Specifications
Model
Length
Width
Weight
Maximum
Capacity
Safe Load
Capacity
Persons
Material
Cadet
80"
58"
95 lbs.
550 lbs.
450 lbs.
2
Polyethylene
Cadet 3 Seater
80"
58"
95 lbs.
550 lbs.
450 lbs.
3
Polyethylene
Captain
92"
58"
106 lbs.
700 lbs.
550 lbs.
3
Polyethylene
Captain V
92"
58"
110 lbs.
700 lbs.
550 lbs.
5
Polyethylene
Colonel
94"
66"
123 lbs.
850 lbs.
700 lbs.
3
Polyethylene
Commodore
92"
58"
110 lbs.
700 lbs.
550 lbs.
2
ABS
Commander
118"
58"
126 lbs.
900 lbs.
750 lbs.
4
ABS
Download Commodore Parts Listings here - English or French

| pedal boats | cadet | captain | captain V | colonel | commodore | commander | options |
Pedal with our pedal boats. We make pedal boat

| our products | who we are | contact us | home |

BW Marine Products© 2022